It's thought to be good luck to serve pork on New Year's Day, and we could all use a bit of good fortune going into 2022! Rather than a roast, which can be quite time consuming, I like to make this quick pork noodle soup, which comes together in 30 minutes start to finish. Nourishing, hydrating (in case you had a bit too much champagne on New Year's Eve) and delicious, it's the perfect dish to serve to the ones you love as you kick off a new year together.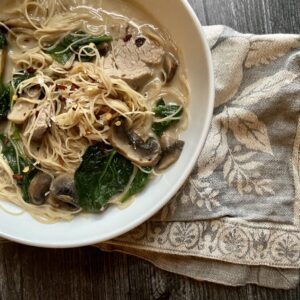 Ingredients
1

tablespoon sesame or olive oil

1

small shallot, minced

2

cloves garlic, minced

1

tsp

ginger, minced

½

cup

shiitake or button mushrooms, cleaned and sliced

¼

tsp

red pepper flakes

½

tsp

salt

¼

tsp

pepper

2

tbsp

coconut aminos

1

pound

pork tenderloin, sliced thinly

4

ounces

rice noodles (I use Mama Rice Vermicelli Noodles)

1

large handful spinach
Instructions
Heat sesame or olive oil over medium heat in a large stock pot.

Add minced garlic, shallot and ginger and cook until soft and fragrant, about 4 minutes.

Add sliced mushrooms and stir to coat in oil. Sprinkle with red pepper flakes, salt and pepper, stir, and continue to cook for about another 4 minutes.

Add coconut aminos and broth and bring to a boil.

Add sliced pork tenderloin, lower heat to medium high and allow to cook until meat is cooked through and juices run clear when you cut into a slice, about 5 minutes.

Add rice noodles and spinach and allow to cook until noodles and spinach are tender, about 2 minutes.