Talk about a crowd-pleasing dinner in a flash. I like to keep a couple of these herbed skirt steaks on hand in the spring and summer for last-minute outdoor get-togethers with family and friends. I'll throw a couple of potatoes in the oven and whatever other veggies or fruit I have on hand on the grill (in the summer, we love to grill peaches, pineapple and corn), and everyone's happy. The lime juice and tomato sauce tenderize the steak, and the coconut aminos lend a delicious brininess to the herbs. It's so, so delicious.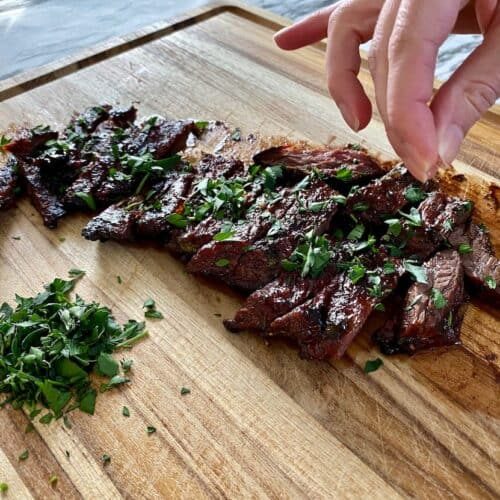 Ingredients
2

pounds

skirt steak

2

green onions, sliced

2

garlic cloves, minced

1

small shallot, minced

¼

cup

chopped fresh parsley

¼

cup

chopped fresh basil

2

tsp

chopped fresh thyme

2

tsp

chopped fresh oregano

¼

cup

olive oil or soy-free canola oil

4

tbsp

coconut aminos

¼

cup

fresh lime juice

¼

cup

plain tomato sauce

2

tbsp

honey
Instructions
Place the skirt steak in a freezer bag.

Sprinkle in green onions, garlic, shallot, parsley, basil, thyme and oregano.

In a small bowl, mix together olive oil, coconut aminos, lime juice, tomato sauce and honey.

Pour the sauce over the steak.

Seal bag and move ingredients around until steak is coated in sauce.

Freeze for up to three months.

On the day you want to serve, thaw the steak, then grill.
Notes
You can use any herbs you have on hand. In a pinch, you can replace the fresh herbs with dried.