When it comes to Thanksgiving, it's all about the bird. But what if you're cooking for a smaller crowd, or a group that includes people who don't eat meat? This recipe involved tying two turkey breasts (easier to come by at the last minute) together with kitchen twine, then searing on all sides and roasting in the oven.
It includes less steps and ingredients than a whole turkey, but still yields deliciously moist results, drippings for your gravy thanks to using skin-on breasts, and plenty of leftovers to send home with friends and family.
Enjoy!
Please note: This post may include affiliate links to featured products for your convenience. If you make a purchase using one of the links, I may receive a small commission, at zero extra cost to you. Win-win!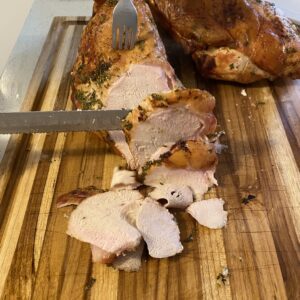 Ingredients
2

boneless turkey breast halves, skin on (about 2.5 pounds each)

salt and pepper to taste

2

tbsp

fresh thyme, removed from stems

2

tbsp

olive oil

1

tbsp

soy-free Earth Balance
Instructions
Remove turkey breasts from refrigerator and allow to sit at room temperature for one hour.

Preheat oven to 350 degrees.

Season turkey breast halves liberally with salt and pepper on all sides.

Place one piece of 12-inch long kitchen twine so it makes a horizontal line at the top of a cutting board. Place another 12-inch piece of twine below and parallel to the first one, leaving about two inches of room between the pieces of twine. Repeat until you have four pieces of twine total on the cutting board.

Lay one breast, skin side down, centered on top of the twine on the cutting board.

Then, lay the other breast skin side up on top of the first, with the thickest part of each breast at opposite ends.

Tie all four pieces of twine around both breasts securely so they will stay together when searing and roasting.

Cover the breasts with fresh thyme on all sides, pressing it into the meat.

Place olive oil and Earth Balance into a roasting pan and place the pan on the stove, then turn heat to medium-high until butter melts (your roasting pan may cover two burners, in which case you'll want to turn both on). 

Sear the turkey on all four sides until it begins to brown (about 4 minutes per side).

Once the turkey is seared, position it securely in the pan and roast in the oven for about two hours or until a meat thermometer reads 165 degrees.

Remove to a carving board or large cutting board, tent with foil and allow to rest for about 20 minutes, then remove twine and slice one breast at a time.

You can reserve the drippings in the pan to use to make gravy, if desired. (I buy five Simply Organic Turkey Gravy packets from Whole Foods and follow the instructions on the packet, deglaze the pan with the drippings using a bit of dry white wine and add that in to the gravy.)