Challenge: Create a classic potato latke without using wheat flour, milk or eggs. Not an easy task, but after some research and experimenting, these savory fried parcels taste deliciously authentic, and served alongside vegan sour cream and applesauce (bonus points if you have some homemade applesauce left over from Thanksgiving), they'll disappear quicker than you can fry up another batch.
This recipe was inspired by I Love Vegan's Vegan Latkes (Potato Pancakes).
Please note: This post may include affiliate links to featured products for your convenience. If you make a purchase using one of the links, I may receive a small commission, at zero extra cost to you. Win-win!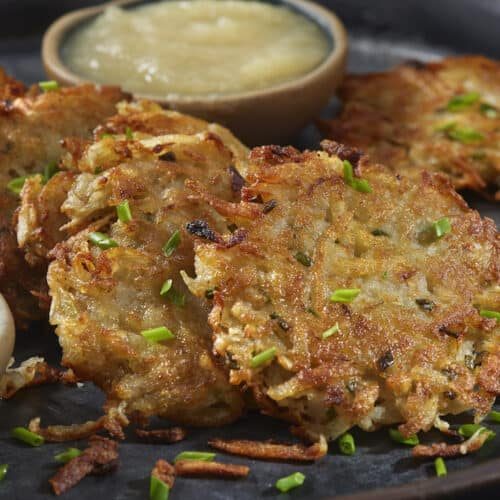 Ingredients
4

cups

grated russet potatoes

2/3

cup

gluten-free baking flour such as Bob's Red Mill One-to-One Gluten-Free Baking Flour

five green onions, green and white parts, chopped and divided

6

tbsp

gluten-free, dairy-free, soy-free oat milk (I used Oatly)

2

tbsp

cornstarch

2

tsp

salt

1

tsp

baking powder

1/2

tsp

dill weed

½

tsp

black pepper

3

tbsp

olive oil
Garnish and sides:
more fresh green onions, chopped

chopped fresh chives

vegan sour cream to serve alongside latkes (make sure it's free of soy and nuts)

applesauce
Instructions
Squeeze as much water out of the grated potatoes as possible.

Place drained potatoes, gluten-free baking flour, 1/4 cup chopped green onions, oat milk, cornstarch, salt, baking powder, dill weed and black pepper into a bowl and mix well with your hands until ingredients are evenly distributed throughout the dough. (The dough will be wet and sticky.)

Heat olive oil in large fry pan over medium-high.

Form dough into 10 3-inch round pancakes, carefully placing half of them into the hot oil in the pan.

Fry until golden brown, then flip and fry on opposite side until golden brown.

Remove to a paper towel-lined plate and repeat frying process with remaining five latkes.

Garnish with green onions and chives and serve alongside vegan sour cream and applesauce.